So...who am i?
So you made it to my site. And I suppose you want to know about me. Alright, but get ready for a longish monologue. First thing's first. I am the son of two illegal immigrant refugees from Guatemala who were trying to escape the Civil War that was destroying the nation. I opened my eyes on the 27th of October 1995 in a hospital in Maricopa County, Arizona. After that, my mom moved me to Los Angeles, the city where she met the man would later become my stepfather. God, how my dad misses the freedom of the West and hates the South for its conservative ideology. I have no Southern blood, yet my sisters Yasmin (2000), Brittany (2003), and Bethzy (2006) do since they were born in Southern Crescent Hospital in Riverdale, Georgia.

I learned Spanish first from my parents and then English from my babysitters and the television. Elementary school is a blur, but I remember my ESOL courses in the morning and how we would get free breakfast and learn English by playing games. I remember the really bad grades
Powered by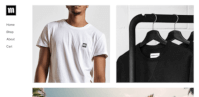 Create your own unique website with customizable templates.